Union flag protester Jonny Harvey joins PUP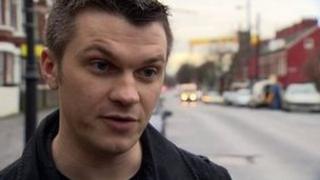 One of the most prominent protesters over Belfast City Hall's union flag decision has announced he has joined the Progressive Unionist Party (PUP).
Jonny Harvey was the chairman of a group called Ulster Protestant Voice, but has now resigned that position.
He said the group should remain outside of any political party.
There have been nearly 40 days of protests over the decision by Belfast City Council to limit the flying of the union flag to only designated days.
"This has not been an easy decision, but circumstances have dictated that I must make this move sooner, rather than later," Mr Harvey said of his decision to join the PUP.
"It has been an absolute privilege to represent this group over the past number of months.
"Although I'm leaving the committee, I would like to remain as a member of the group and will of course always be on hand to help in any way I can."
Speaking on BBC Northern Ireland's The View, he said it was important for disaffected loyalists to join the political process.
"I think the PUP is one of those parties that will deliver and hold the Unionist Forum to account," he said.