Three arrests over Belfast car thefts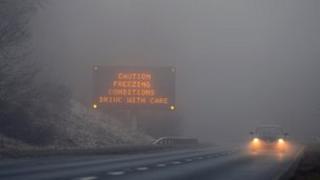 Police investigating the theft of five cars in Belfast while the vehicles were being de-iced and the engines running have arrested three men.
The cars were stolen within the space of 90 minutes in a number of areas including Orangefield, Lisburn Road, Ravenhill Road/Rosetta and Antrim Road.
One of the vehicles, a Volkswagen Golf, has been recovered.
Three men - two aged 24, the other 28 - were arrested in the Dunmurry area on suspicion of handling stolen goods.
The other cars which were stolen were a black Renault Scenic, a black Volkswagen Polo, black Volkswagen Golf, and a white Ford Kuga.
Police said one vehicle was taken in north Belfast and the others in the south and east of the city between 07:30 GMT and 09:00 GMT.
The thefts happened either when the owner was filling a kettle, using de-icer or letting the car heat up.
Police said this was a "gift" to thieves.
No-one was injured in any of the incidents.
In a statement, the PSNI said motorists had a tendency to leave their vehicles running during a cold snap to de-ice them or warm them up.
"This is a gift to nearby, opportunistic thieves who just jump into the vehicles and drive off," the statement said.
"While it is good practice that all windows should be thoroughly thawed and cleared before driving, police would advise motorists to sit in the vehicle for the few minutes it takes to clear windows and heat the interior.
"Drivers should not switch their engines on and get out to scrape the exterior of their vehicles as cheeky thieves will also take this opportunity even though the owners are close by."