Gambling laws to be overhauled in Northern Ireland.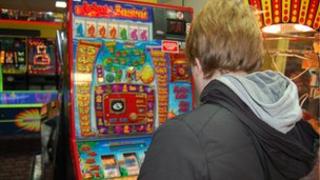 It is set to become an offence to allow anyone under 18 years old to gamble on a gaming machine in Northern Ireland.
The Social Development Minister, Nelson McCausland, has outlined an overhaul of local gambling laws.
Under a series of planned changes, his department said bets placed in a bookmakers office are set to become legally binding contracts.
The industry will also be required to contribute to public initiatives aimed at combating gambling addiction.
The Department of Social Development (DSD) said the law in Northern Ireland was becoming increasingly out of date due to changes in industry practices and the development of new forms of gambling.
'Harmful effects'
A DSD spokesperson confirmed there are no plans to change the law with respect to Sunday opening of bookmakers offices or bingo clubs.
Northern Ireland is the only part of the United Kingdom where these premises are closed on Sundays.
The current ban on casinos will also be retained.
Mr McCausland outlined his legislative proposals following a recent meeting of the Stormont Executive.
The minister said: "My priority is to minimise the harmful effects of gambling; the new law will be underpinned by objectives aimed at keeping crime out of gambling, ensuring fairness within the gambling industry and protecting the young and vulnerable."
The changes to gaming machine regulations will bring Northern Ireland into line with the standards currently used in Great Britain.
The DSD carried out a public consultation on the proposed changes in 2011, and the legislation is set to be drafted and placed before Stormont MLAs ahead of the next assembly election.
The legislation will have a dedicated section dealing with the protection of children and young people and some restrictions on advertising will be lifted.
Mr McCausland said: "It is necessary to update the current gambling laws in order to address the rapidly changing gambling environment that exists today; changes are also required to ensure that our law complies with relevant EU provisions."
A spokesman for the Northern Ireland Turf Guardians, who represent bookmakers, said: "We've been working closely with all stakeholders for some years in preparation for this reform of gambling legislation which in Northern Ireland has been some way behind both GB and the Republic of Ireland.
"We look forward to seeing the bill when it emerges from the drafting process."
The DSD's review of the local law began in 2009, and included the "first comprehensive gambling survey undertaken in Northern Ireland".
That survey found that approximately one person in every 50 in Northern Ireland has had a problem with gambling.
The figure equates to about 2% of the population in Northern Ireland but it is three times higher than that recorded in Great Britain.