East Belfast riot accused 'trying out laser'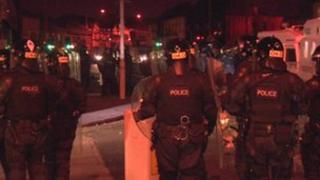 A man shone a laser pen at a police helicopter during rioting in Belfast just to test the distance it could reach, the High Court has been told.
William Adair was trying a Christmas present at home and has no links to those involved in violence in the east of the city, his barrister claimed.
But a judge said the alleged actions could have caused deaths had the pilot been blinded.
Mr Adair, 28, of Loopland Road, Belfast, was denied bail.
He faces charges of endangering the safety of an aircraft and shining a light to dazzle or distract the pilot.
The PSNI helicopter targeted had been deployed to deal with disorder linked to loyalist flag protests last Friday.
Police were able to locate the laser to Mr Adair's home where he was arrested later that night.
During bail applications by three men detained in connection with the trouble, the court heard he admitted shining the pen out of curiosity but denied intending to cause any danger.
According to the defence Mr Adair was given the device by his partner for Christmas to use in paintballing-style activities.
The accused, took the gift with him when he went outside for a smoke, his barrister said.
"He did shine it at the helicopter but he is not involved in any way in this riot. He has absolutely no connection with it or the people in it," the barrister told the court.
"He was shining the light, but there are no instructions on the box as to the distance it goes.
"He was wondering whether or not it would reach a particular distance."
Mr Justice Horner pointed out that other targets could have been identified without putting lives at risk.
"If the pilot had been blinded and the helicopter had crashed this man would have had a number of deaths on his hands," the judge said.
The judge also refused applications by two other men accused over the violence linked to the decision to restrict the flying of the union flag at City Hall.
'Deeply ashamed'
Kurtis Kenna, 21, of Ardenvohr Street, Belfast, faces charges of possessing and throwing a petrol bomb and having an offensive weapon, namely a catapult, in a public place.
He was arrested during disorder in east Belfast last Friday.
His lawyer argued that he fully co-operated with police, telling officers that he prepared and threw one petrol bomb which failed to explode.
Mr Kenna, who cares for his seriously ill mother, was said to be "deeply ashamed" over what had happened.
The third applicant for bail, Christopher Shires, 23, of Beechfield Street, Belfast, is accused of throwing masonry at police officers and vehicles last Thursday night.
Defence counsel Paul Bacon said his client accepted attending a peaceful protest which he claimed was then hijacked by "more nefarious elements".
Mr Shires denies throwing any bricks, insisting he is the victim of a mistaken identity.
But Mr Justice Horner ruled that the accused should all remain in custody due to the continuing highly-charged atmosphere.
He added: "Until the situation returns to normal I do not consider there are any conditions I can impose which would remove the risk of further public order offences."