Newtownards: court blocks BBC naming teenage rapist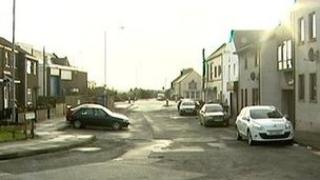 Efforts by the BBC to reveal the name of a teenager who raped a pensioner in Newtownards have been delayed yet again by the courts.
His victim died a few months after the attack, during which the intruder raped the 76-year-old twice and subjected her to a serious sexual assault at her home at Upper Greenwell Street.
For the past six months, the BBC has been trying to let people know the identity of the rapist, who is now 17, but who was 15 at the time of the attack.
An order preventing his identification was made by Newtownards Magistrates Court when the teenager first appeared in court.
He later pleaded guilty to all charges and the BBC made the argument that it was in the public interest to name him because of the seriousness of the crime; the public has the right to know and it would act as a deterrent to other offenders of a similar age.
Last July, Crown Court Judge Geoffrey Miller QC said the BBC could say who the teenager was.
"There is no doubt that this was a heinous crime and the public interest in knowing the identity of the perpetrator is a legitimate one, and there is also the very real issue of deterrence to other young offenders," he said.
Sentencing the teenager, the judge said this was a shocking case in many ways.
"The victim's will to live was sapped," he said.
The pensioner was described as having a degree of independence and humour. Her dignity was violently disrupted. The court heard that after the attack she said: "A pig would not have done to me, what he done."
He was sentenced to eight years in prison, of which he is likely to serve four.
The rapist's barrister Terence McDonald QC, was able to block the lifting of reporting restrictions until another judge looked at the case in the judicial review court.
On Wednesday, the sex offender's legal team, McConnell Kelly solicitors and their barrister, argued even though under-age rapists have been identified and reporting restrictions lifted before in England, that case law does not necessarily apply to Northern Ireland.
High Court Judge, the honourable Mr Justice Stevens, said he could not rule on whether reporting restrictions could be lifted, so the matter was referred to the Court of Appeal.
That is where an appeal against the teenager's sentencing is also to be heard at the end of this month.
Mr Justice Stevens also adjourned the judicial review over reporting restrictions until March, in case his court was the right court for the reporting restrictions issue to be dealt with.
He said if the appeal court did want him to deal with the issue sooner then March, then he would.
The sex offender was 15 years old at the time of the attack in March 2011. The elderly woman died in October 2011.