Causeway golf row: minister 'unreasonable' High Court told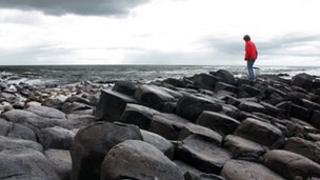 The High Court in Belfast has been told that Environment Minister Alex Attwood acted "unreasonably and irrationally" in granting planning approval for a £100m golf resort near the Giant's Causeway.
The National Trust is opposing the golf and hotel complex because of its proximity to the Causeway Stones which are a Unesco declared World Heritage site.
A lawyer for the trust told the court the minister should have consulted Unesco before making his decision.
In court on Wednesday, he said the minister had been improperly advised and accused him of second guessing Unesco.
The court also heard that the conservation wing of the minister's own department had consistently opposed the plan for the resort.
Last year, the National Trust came under attack from several quarters over its decision to legally challenge the resort, which would be a mile from the Giant's Causeway.
DUP MP Ian Paisley Jr described the challenge as a "disgrace to Northern Ireland".
Mr Paisley said he feared court action would take two years and the developers would begin looking elsewhere.
The application to build an 18-hole golf course and hotel complex was given the go-ahead in February 2012.