Union flag dispute: Belfast rioters damage community building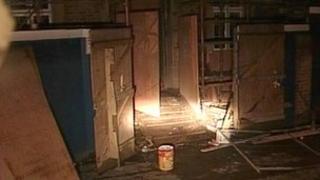 Rioters broke into and vandalised an east Belfast community building in their search for missiles to throw at police, the PSNI have said.
The building, on Templemore Avenue, is currently being developed to house an advice centre and childcare facilities for autistic children.
Scaffolding, fencing and parts of the building were broken up and used to attack officers during a flag protest.
Tuesday night was the sixth consecutive night of rioting in east Belfast.
Helicopter footage
The PSNI also released CCTV footage showing crowds of masked youths attacking police lines during the protest.
In a statement, the PSNI said officers were attacked with petrol bombs, fireworks, bricks and golf balls on the Newtownards Road, before a crowd of about 150 protesters moved into Templemore Avenue.
They said that "from helicopter footage it became clear that individuals had forcibly entered a building owned by East Belfast Community Development Agency".
The PSNI added that officers entered the street to "physically move the crowd away from the community building".
107 arrests
Chief Superintendent Alan McCrum said: "Last night we saw a number of people on the streets who were intent on engaging in violence.
"They showed no regard for the local community and forcibly entered a premises that is being developed as a multi-purpose community site."
He added: "Police are committed to bringing those who engage in criminal activity before the courts. Since last Thursday alone, 32 people have been arrested on a range of public disorder offences."
Since the union flag protests began on 3 December, police have made a total of 107 arrests and have charged 82 people.
Sixty-six police officers have been injured as a result of violent protests.
The campaign of street demonstrations began when Belfast City Council voted to limit the number of days the union flag is flown at Belfast City Hall.
The flag was raised on Wednesday morning, for the first time since last month's vote, to mark the Duchess of Cambridge's 31st birthday.
It is due to be taken down again later.