Appeal against Hackett murder accused's bail rejected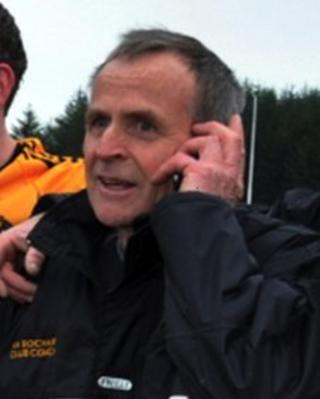 A young Gaelic football star accused of shooting dead his father allegedly also tried to strangle his mother months earlier, the High Court has heard.
Prosecutors claimed that Sean Hackett, 18, twice borrowed a rifle before the killing was carried out.
His 60-year-old father, Aloysius was found dead at the family home in Augher, County Tyrone, on Friday.
A judge rejected a prosecution appeal against the teenager's temporary release to attend his father's funeral.
Refusing the prosecution appeal, Mr Justice Horner directed that the accused's two chaperones must collect him from Hydebank Young Offender's Centre, take him to the service in Augher and return him to custody immediately afterwards.
The decision allows Sean Hackett to attend the funeral on Wednesday of his father, a former chairman of St Macartan's GAA club,
The compassionate bail for Wednesday's funeral was granted at Omagh Magistrates Court under strict conditions.
Mr Hackett is not allowed access to a mobile phone or the internet while travelling to and from the funeral and is only permitted to speak to two chaperones, including a solicitor and GAA manager Mickey Harte.
He is not allowed to speak to immediate family members.
In Belfast High Court on Tuesday, Mr Justice Horner was told the Hackett family, who attended court, were united in wanting the accused to be at the funeral.
The court heard how the accused initially claimed to have arrived home to discover his father dead.
It was alleged that he then told police: "I shot him."
The rifle believed to have been used was found in the boot of a car used by Sean Hackett.
Philip Henry, prosecuting, said inquiries had revealed that the accused borrowed a legally-held gun from a friend last November.
He returned the weapon but was then given it again along with ammunition following a further request on New Year's Day, the barrister said.
Opposing compassionate bail, Mr Henry added that police viewed this as showing premeditation.
In a statement during interviews the accused said he had been involved in an incident resulting in the death of his father "whom I love very much," the court heard.
It added that he had been suffering from depression in recent months.
Mr Henry also disclosed details of an alleged attempt by Sean Hackett to strangle his mother last October.
At the time he was said to have broken up with his girlfriend and allegedly made comments that even if he had gone through with the act his mother would still be there to watch down from heaven.
Defence counsel Desmond Fahy said the Hackett family were going through an unimaginable experience.
But he stressed that his client's mother, two brothers and sister "are all united in their support and love, and secondly their desire that Sean be present at the funeral tomorrow".
He added: "They consider his presence to be an integral part of the process which they are going through."
Sean Hackett was described as a rising star in Tyrone Gaelic football circles, graduating to the county's under-21 ranks.
His achievements have brought him to the attention of Mr Harte, who attended court along with the family.
Giving evidence, the Tyrone manager agreed to accompany the accused, along with his solicitor, at all times during the funeral, to ensure no contact is made with potential witnesses in the case.