Pauline Haveron murder: Judge directs not guilty verdict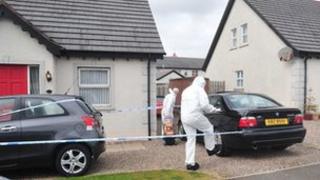 A retired RUC sergeant accused of murdering his estranged wife has been cleared after the prosecution offered no evidence at his retrial.
A jury was sworn in for the retrial of Joseph Haveron, 58, but the judge directed it to find him not guilty.
Mr Haveron from Farm Lodge Grove in Greenisland, was accused of murdering Pauline Haveron, 53, on 18 April, 2010.
His first trial was halted in December after the prosecution decided not to rely on evidence from a CCTV expert.
Mrs Haveron was found floating face down in the bath at her Huntingdale Green home in Ballyclare. She had been strangled.
Speaking after the ruling Mr Haveron's solicitor, John Burke, said that it had been a difficult and painful time for all members of the family.
"For his own part Mr Haveron has endured a nightmare of investigation and prosecution for this terrible, terrible act," he said.
"He has always strenuously protested his innocence and has been subjected to a lengthy and thorough trial process which has now terminated in his acquittal."
He said that Mr Haveron's "sense of relief at being vindicated" was "tempered by sadness" for their children and the wider Haveron family. He said that Mr Haveron would be moving on with his life and providing comfort to the couple's children.