Aloysius Hackett: Son remanded in custody charged with murdering father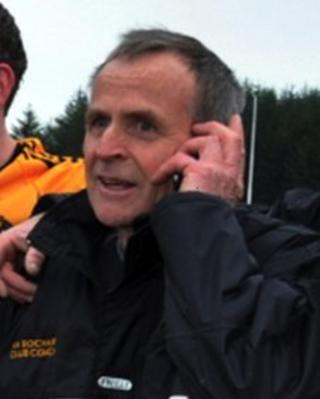 An 18-year-old man has been remanded in custody charged with murdering his father in County Tyrone.
Aloysius Hackett, 60, a former chairman of St Macartan's GAA club, was found dead at his home on Aghindarragh Road in Augher on Friday night.
His son, Sean, initially told police he had returned home to find his father's body. He later said he had shot him, the court heard.
He was granted compassionate bail to attend his father's funeral.
Omagh Magistrate's Court heard Mr Hackett was being treated for depression and had asked a friend to obtain a gun for him twice in the last two months.
The compassionate bail for Wednesday's funeral has been granted under strict conditions.
Mr Hackett, a Gaelic footballer, is not allowed access to a mobile phone or the internet while travelling to and from the funeral and is only permitted to speak to two chaperones, including a solicitor and GAA manager Mickey Harte.
He is not allowed to speak to immediate family members.
Sean Hackett, who was arrested shortly after the incident, did not look at his family during the hearing.
His mother, two brothers and sister were in court for the hearing along with a large number of supporters who waved to the teenager as he left the dock.
His mother was distraught throughout and broke down fully when bail was refused and compassionate bail granted.
Meanwhile, a 17-year-old man, who was arrested on Sunday, in connection with Mr Hackett's death has been released pending a report to the Public Prosecution Service (PPS).