Men convicted of McIlveen murder to face retrial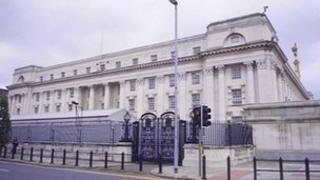 Three men whose convictions for murdering a County Antrim schoolboy were quashed are to face a retrial.
Senior Appeal Court judges ruled it was in the interests of justice to bring fresh proceedings against them.
Aaron Wallace, 23, Christopher Kerr 25, and Jeff Lewis, 22, all of Ballymena, were convicted of killing 15-year-old Michael McIlveen in May 2006.
Doubts, however, remain over Lewis' fitness to stand trial when the retrial begins in Antrim in three weeks.
His barrister revealed that it could take another two months to complete an assessment of undisclosed health issues affecting him.
Wallace, formerly of Moat Road, Kerr, from Carnduff Drive, and Lewis, of Rossdale, were originally found guilty of his murder and given minimum jail terms ranging from 10 to 13 years.
Wallace was granted bail while Kerr is to remain in custody until the trial begins.
Last month all three men's murder convictions were declared unsafe due to flaws in how the jury was directed.
Defenceless
Michael McIlveen died after being chased and attacked by a crowd in Ballymena in May 2006.
He was beaten with a baseball bat and allegedly kicked as he lay defenceless in an alleyway.
A fourth man, Mervyn Wilson Moon, 23, of Douglas Terrace in the town, had admitted the killing at the start of the trial.
Following the quashing of their convictions, the prosecution confirmed that it was seeking a retrial.
Counsel for the three appellants argued on Monday against such a move due to the passage of time and evidential issues.
Frank O'Donoghue, QC, for Kerr, stressed that his client has already served almost seven years in prison.
"In the context of a relatively young defendant that is a very significant period of time indeed," he said.
Wallace's barrister, Brendan Kelly QC, claimed any new jury could struggle to ignore the publicity that surrounded the previous trial.
Judges also heard how Lewis was due to be transferred from prison to another appropriate location due to his unspecified medical condition.
Defence concerns
His barrister, Richard Weir QC, raised issues over his fitness to undergo a retrial.
He said: "I'm told by my instructing solicitor... that it will require a period of at least two months for an accurate and compete assessment of Mr Lewis's state of health."
However, John Orr QC, for the prosecution, contended that all defence concerns could be dealt with by a trial judge.
Following submissions Lord Chief Justice Sir Declan Morgan, Lord Justice Higgins and Lord Justice Coghlin ordered a new hearing.
Sir Declan said: "We have decided that this is a case where there should be a retrial.
"In light of the publicity issues we consider it inadvisable to say anything more, other than to say the interests of justice do require a retrial."
The case was listed to begin at Antrim Crown Court on 28 January.
However, Sir Declan acknowledged it may not be possible to begin proceedings against Lewis on that date.
Wallace, who was not in custody at the time of the original trial, was readmitted to bail.
He is to live at an undisclosed address and banned from entering Ballymena as part of his release conditions.