Unionist leaders in Belfast City Hall flag talks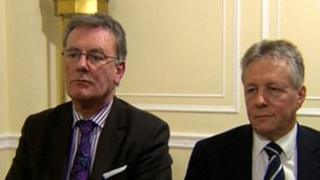 The leaders of the Northern Ireland's two main unionist parties have held a meeting to discuss the violence and protests related to the flag dispute.
Peter Robinson and Mike Nesbitt met on Monday and it is expected details will be made public later in the week.
It is understood they met to finalise the timing and format for the first meeting of their new unionist forum.
However, East Belfast MP Naomi Long - from Alliance - said unionists alone cannot solve the union flag dispute.
She said a "single identity solution will not provide a lasting solution" and argued instead for a "shared solution".
Responding to the violence of recent days, Ms Long she said those involved in riotous behaviour were not listening to political leadership.
She also said she was convinced that "most people in Northern Ireland want the protests to end".
The Alliance MP said her hope for 2013 was that politicians would engage in a true reconciliation process that "was genuine had meaning and substance".
She added that the violence and the threat of violence "has to be removed ".
Sinn Féin MLA Gerry Kelly said: "What is needed to resolve the flag issue and achieve mutual respect and equality for of Irishness and Britishness is for dialogue involving the whole community.
"This internal navel gazing Unionist forum will achieve nothing to advance a future based on equality as envisaged in the Good Friday Agreement.
"Any move forward on symbols or people's identity has to be based on equality, parity of esteem and mutual respect.
"Until the leadership of Unionism accept that starting point they will continue to lead their community up the garden path bringing nothing but confusion and reactionary violence."
The leaders of the DUP and UUP suggested creating the unionist forum last month.
They said they want to build consensus on the issue and strengthen "British cultural identity in Northern Ireland".
A campaign of street protests has taken place since the Belfast City Council voted to fly the union flag over the city hall only on designated days.
Previously, the flag was flown every day.