Bullet sent in post to Patsy McGlone, SDLP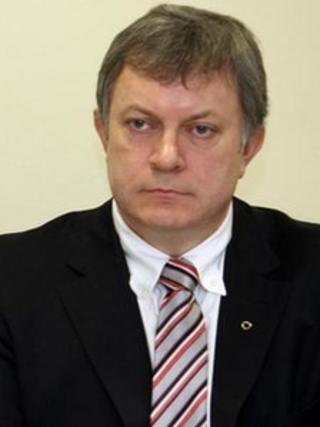 A letter intended for SDLP politician Patsy McGlone contained a bullet and a sympathy card, he has confirmed.
A package, containing his name and picture, was intercepted at the Royal Mail sorting office in Mallusk.
The Mid-Ulster assembly member said whoever sent the sinister threat were "faceless fascists".
In recent weeks, a number of Northern Ireland politicians have received bullets in the post.
Mr McGlone said: "This is obviously not something that is a pleasant experience, for me or my family, however, those who sent it will not put me off doing my job, that is representing the people of Mid Ulster.
"I would like to pay tribute to the staff at the post office and the PSNI for their professionalism and vigilance in dealing with this matter."
Meanwhile, the National Union of Journalists (NUJ) said a letter containing a bullet had been addressed to a Belfast-based newspaper reporter.
The NUJ said it was intercepted by the PSNI and was sent following the journalist's reporting of the loyalist rioting.
NUJ president Barry McCall said it was "a despicable attempt to intimidate journalists working in extremely difficult circumstances".
"The posting of a bullet to a newspaper, addressed to a named journalist, represents an attack on journalism and on democracy," he said.
"This incident must be seen in the context of recent attacks on journalists and elected public representatives and should be condemned by all who support the democratic process."
Alliance MP Naomi Long, party leader David Ford and councillor Gerardine Mulvenna were among those sent bullets in the post in recent times.
Sinn Fein's Gerry Kelly and Alex Maskey also received a letter containing bullets.