Peter Robinson condemns flag violence and criticises some protest organisers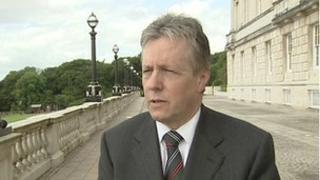 Northern Ireland's First Minister, Peter Robinson, has condemned attacks on the police during union flag protests in Belfast as "a disgrace".
He said while people were entitled to protest lawfully and peacefully, violence could not be justified.
In a statement on Friday evening, the DUP leader also criticised some of the "organisers of the protest movement".
Mr Robinson accused them of trying to "undermine the DUP as the voice of unionism".
'Criminally wrong'
He said: "Since the decision was taken to remove the union flag from Belfast City Hall I have consistently, and frequently, indicated that it was ill-considered and provocative."
The first minister added: "The violence and destruction visited on the PSNI is a disgrace, criminally wrong and cannot be justified. Those responsible are doing a grave disservice to the cause they claim to espouse and are playing into the hands of those dissident groups who would seek to exploit every opportunity to further their terror aims."
"It will be enough for any unionist to know the organisers of the protest movement are not to be heeded when they hear them refer to the police as the 'terrorist PSNI'," Mr Robinson said.
He issued the statement a day after 10 police officers were injured while policing a loyalist protest on Albertbridge Road in east Belfast.
A campaign of street demonstrations has been ongoing since Belfast City Council took a vote on 3 December which limited the number of days the union flag is flown at Belfast City Hall.
Some of the protests have resulted in violence.
To date, almost 40 police officers have been hurt, several politicians have received death threats and homes and property have been damaged.
'Outraged'
Last month, the DUP leader and the leader of the other main unionist party, the UUP, issued a joint statement calling for a move "beyond protest" to a political solution and announced they were setting up a unionist forum to address cultural issues.
Mr Robinson said:"Many genuine people were outraged by the City Council decision and were in the beginning prepared to express their anger by protesting, but it is clear that alternative political routes are available and a continuation of the protests has no role in changing the bad decision that was taken."
"The real purpose of those who claim to speak for some of the organisers of the protests is fast becoming clear. Their attacks on the DUP expose their real target.
"It is not about the flag, the Alliance Party, Sinn Fein or the erosion of culture it is a straight-forward politically motivated attempt to undermine the DUP as the voice of unionism despite our attempts to oppose the removal of the Union Flag in Belfast."
He accused some of the protest organisers of "total bankruptcy of their thoughts" and claimed their real goal was to replace Northern Ireland's devolved Assembly at Stormont with direct rule from Westminster.