Recycling and the cost of Christmas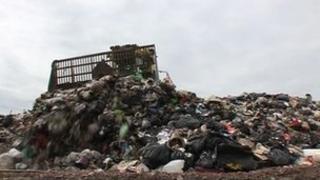 Celebration is an integral part of the Christmas and New Year period, but spare a thought for those who have to clear up after the festivities have ended.
This week is the busiest time of the year for refuse collectors as there is more waste in Northern Ireland than at any other time of year.
Those people who would normally recycle their waste are more likely to put all their rubbish in their black bin as they bid to rid their homes of clutter.
Mel Boyle, a father-of-two from east Belfast, admits space for household waste is at a premium during the post-Christmas period.
"We just find there is so much more waste with the toys and the food," he said.
"We are also at home a lot more and tend to produce a lot more waste and find there is not enough room in the bins for it all.
"We usually do recycle everything, but at Christmas we just have to find space for our waste in whatever bin is available."
Many people do not realise that most Christmas wrapping paper and cards cannot be recycled as they are heavily embellished with glitter and other accessories.
However, Belfast City council's waste manager Martin Doherty said the impact of these items was meagre in comparison to those that are consumed in large quantities throughout the year and not always recycled.
"Things like plastic bottles, cardboard and paper, people are simply throwing out and they are much more important to recycle, as we use these over the 52 weeks," he said.
The recycling rate for local authority collected municipal waste in Northern Ireland in 2011/12 was 38.4%.
The Stormont Executive has set a target of recycling 60% of municipal waste by 2020. If Northern Ireland does not meet this deadline and reduce its amount of landfill rubbish it could be heavily fined by the EU.
Environment Minister Alex Attwood is hopeful the target will be achieved in time.
"Ten years ago only 10% of our rubbish was recycled and although we have some distance to travel we are travelling there very quickly," he said.