Belfast developer Peter Curistan declared bankrupt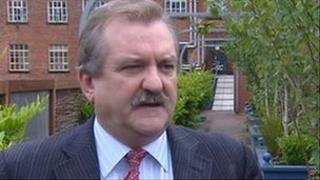 The Belfast property developer Peter Curistan has been declared bankrupt.
Mr Curistan developed the Odyssey Pavilion entertainment complex in east Belfast but lost control of it to the former Anglo Irish Bank.
He has been involved in a series of legal battles with the bank, which is now called the Irish Bank Resolution Corporation (IBRC).
An official notice states that Mr Curistan was bankrupted four days before Christmas.
In September 2012, IBRC obtained a 10m euro judgment order against Mr Curistan in relation to a Dublin property investment.
Mr Curistan has been suing the bank alleging fraudulent misrepresentation and negligence over the process to find a buyer for his long-term lease on the Odyssey Pavilion.
The case centres on the company identified by the bank as its preferred bidder.
During his litigation, Mr Curistan managed to bring one of the bank's most controversial and embarrassing episodes into the public domain.
In one of the cases a judge said the bank's so-called "Golden Circle" appeared to be "improper and unlawful".
Mr Justice Deeny was referring to a transaction where the bank loaned 10 of its clients 451m euro which they then used to buy shares in the bank.
The transaction was a share-support scheme, designed to prevent a large number of shares being sold on the open market which would have depressed the bank's value.