Jason McGovern death: On street help for young people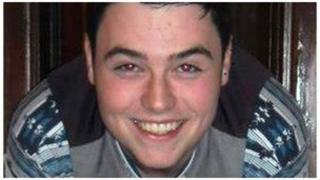 A project to provide assistance and support for young people who socialise in Omagh is to be set up.
The town's Policing and Community Safety Partnership (PCSP) met on Thursday to discuss the recent murder of a teenager and assaults in the town.
Jason McGovern, 19, from County Monaghan died on New Year's Eve, a day after he was assaulted in two separate incidents in Omagh.
On the Friday before Christmas, six police officers were injured.
On the same day 14 arrests were made.
Police said they had received more than 20 reports of assault, disorderly behaviour and criminal damage on that day, 21 December.
Councillor Sorcha McAnespy was at the PCSP meeting that discussed alcohol, drugs and anti-social behaviour.
She said £10,000 had been secured from the Department of Justice to set up the volunteer or 'street angels' programme to assist vulnerable people and make Omagh feel like a safer place to be at weekends
The project will be supported by the local Neighbourhood Renewal Partnership.
"We're hoping to match fund it and put in a place a co-ordinator to coordinate efforts to have street angels on the streets at night," she said.
'Training'
"They'll be out and about the streets, looking out for the young people who have maybe had one or two too many to drink.
"They'll have first aid training, they'll be there to offer glasses of water, cups of tea and coffee, phones, if people are unable to contact their parents, or get lifts home, maybe arrange a taxi for them.
"Just a wee safe haven so that people have somewhere to go."
Ms McAnespy said the volunteers would receive training.
"A lot of people want to give back to society and they are maybe parents themselves, and have got an interest in ensuring things go well for the young people," she said.
"Initially I think we have secured £20,000 for the scheme at the moment, obviously we'll be looking to build on that and looking at other avenues to secure funding. It should roll out for one year."
She said there was a "healthy night time economy" in Omagh.
"There are dozens of buses that come here every weekend from the nine counties of Ulster," she said.
"We have a huge number of young people descend upon our town and I think it's a relatively small number of incidents considering."
Safety
The councillor said that invites would be sent out to all the licence holders, hot food outlet owners, taxi companies for the next PCSP meeting.
"We're all trying to work together to ensure Omagh is a safe place to socialise - everybody has got an interest in that," she added.
Jason McGovern, 19, of Tydavnet, County Monaghan, was punched at a pub on John Street on Sunday. He was hit a short time later at Cunningham Terrace car park.
After the attacks, Mr McGovern made his way to a friend's house in Mullan village near Emyvale in County Monaghan where he was found dead on Monday.