Basil McCrea unclear over UUP disciplinary hearing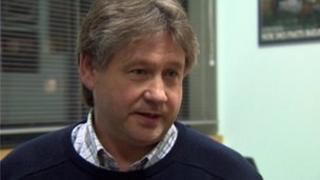 The Ulster Unionist MLA, Basil McCrea, has said he has no idea whether his party is going to proceed with a disciplinary hearing against him later.
McCrea lost the party whip last month when he publicly criticised the UUP's handling of the controversy over the flying of the union flag.
Mr McCrea said he told the UUP he was not able to attend a hearing on Friday due to a family engagement.
A UUP spokesman declined to comment on internal party matters.
'Stupid idea'
Mr McCrea was censured on 13 December by his party leader, Mike Nesbitt, who claimed the the Lagan Valley MLA had done "enormous damage" to the UUP.
Mr Nesbitt removed the whip after Mr McCrea described a joint decision by the two main unionist parties to take the flag dispute to Stormont's Assembly Commission as a "stupid idea".
Days later on Christmas Eve, the Lagan Valley MLA was told he was facing a UUP disciplinary hearing following a complaint.
Mr McCrea said he told the party he was unable to attend Friday's planned meeting due to a long-standing family commitment.
He said he has not heard back form the UUP, nor does he have the details of the complaint or complaints against him.
McCrea said: "I am at a lost to understand what it is that people are alleging against me but whatever it is, I feel quite confident that I will be able to explain the situation.
I have checked all aspects of the policy, I have done a lot of research on it. I am more than happy to put my argument across to them and I will do so if they give me the opportunity," he added.