Ulster Bank set to close 20 branches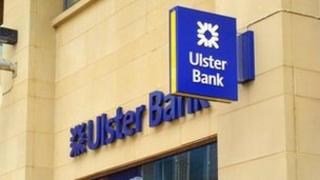 Ulster Bank has said it will close "in the region" of 20 branches and sub-offices on the island of Ireland this year.
The Irish Bank Officials' Association (IBOA), the union that represents bank workers, said it understands half the closures will be in Northern Ireland.
The IBOA learned of the closures during a staff conference call last week.
In a statement, Ulster Bank said that it would provide further details on the closures within the next few weeks.
The Ulster Bank currently has 146 branches in the Republic of Ireland and 90 in Northern Ireland.
Larry Broderick from the IBOA said this most recent announcement is part of an ongoing all Ireland restructuring process.
"The potential announcement of closures of branches will probably result in 50 or 60 of those jobs to be impacted in Northern Ireland for the retail network.
"We expect in Ulster Bank by the end of 2013 to see probably in the region of 950 jobs on the island of Ireland to have gone out of the bank, arising from restructuring," Mr Broderick said.
The bank's officials are due to meet the IBOA next week.
In its statement on Thursday, Ulster Bank said it continued to keep its branch network under review "to ensure that we are operating in the correct locations for our customers".
Last January, the bank announced it was planning to cut its workforce in Northern Ireland and the Republic of Ireland by 950 staff.
It said 350 jobs would go in Northern Ireland while the remaining 600 would be lost in the Republic.
Ulster Bank, the third-largest bank in Ireland, is owned by Royal Bank of Scotland (RBS).
In the first nine months of 2011 the bank wrote off more than £1bn in bad loans, mainly related to property.