Northern Ireland road deaths lowest on record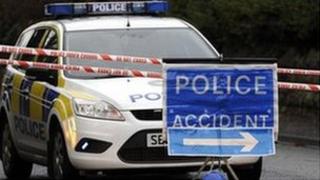 The number of deaths on Northern Ireland's roads in 2012 were the lowest since records began.
A total of 48 people died in road crashes last year. In 2011, 59 people died on Northern Ireland's roads
The previous lowest number of road deaths was 55 in 2010.
Environment Minister Alex Attwood said the main causes of crashes continued to be speeding, drink driving and carelessness.
"2012 has been an important milestone for road safety in Northern Ireland, but there are still 48 families who have lost a family member over the last 52 weeks," he said.
"I extend sympathy to those families and friends who lost loved ones through road tragedy."
Mr Attwood said "many more men than women" were being killed on Northern Ireland's roads and that child fatalities had increased in 2012.
He said the "next horizon" was moving "towards a vision of zero fatalities".
"I continue to urge road users to pay attention, expect the unexpected, slow down, always wear your seatbelt and never ever drink or take drugs and drive," he said.
"By doing so - here and across the island - lives are saved."
The PSNI's head of operations branch, Superintendent Mark Purdon said one death was too many and road safety "remained a priority for the police throughout 2013".
"Although we saw a decrease in the number of road deaths in 2012 to the lowest level ever recorded in Northern Ireland, we can take little comfort in the fact that 48 people lost their lives on our roads," he added.
"The pain of these avoidable deaths has touched family, friends and communities right across Northern Ireland and beyond."
Iain Greenway, of the Department of Environment, attributed the reduction in road deaths to "a change in people's behaviour".
He said that getting drivers to realise that accidents could happen to them was the key message in road safety.
"If you are driving too fast, if you are tempted to drive after drinking, if you are careless and inattentive, using a mobile phone, texting, whatever it may be, it could happen to you," he said.
Assistant chief fire officer with the Northern Ireland Fire and Rescue Service, Dale Ashford, said it had attended 633 crashes over the past year and that people could not "afford to be complacent".
"Although road death figures are reducing, there are still far too many unnecessary and tragic deaths on our roads," he said.