Union flag protests in Carrickfergus and Belfast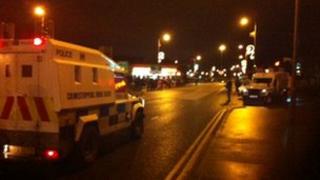 There has been some disruption to traffic in Belfast and Carrickfergus due to loyalist protests over restrictions to flying the union flag.
The main Belfast Road in Carrickfergus, County Antrim, was blocked for a short time close to Sainsbury's car park.
More than 100 people took part in the peaceful demonstration, amid a large police presence.
In Belfast, there was disruption to some metro bus services due to protests at Woodstock Link and Hesketh Park.
Translink said diversions and delays were to be expected on its 6A, 18 & 19 metro services in east Belfast and it 57 and 11A services in the north of the city.
Street demonstrations have been taking place across Northern Ireland since Belfast City Council voted to change its long-standing flag policy on 3 December.
Loyalists have protested against the decision to fly the union flag at Belfast City Hall on designated days, rather than all year round.