When how you looks affects your chances of landing a job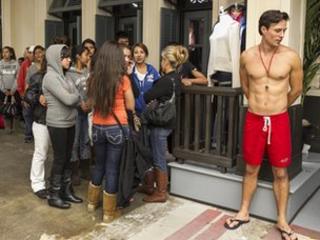 With 70,000 people currently unemployed in Northern Ireland, competition for jobs is fierce and making sure your CV looks and stands out is very important.
But what about how you look, and should that matter when it comes to getting a job?
When it comes to recruitment processes the Equality Commission in Northern Ireland states that "it is difficult to see why photographs would be needed by the employer with an application for a job".
But that "there is no law in Northern Ireland that bans discrimination on the basis of physical appearance".
If you were applying for a job as an actor or a model, you would expect to be scrutinised for your appearance.
The Game of Thrones HBO series, which is filmed in Northern Ireland, for example typically cast those who were of 'larger build' and who had by their own admission 'extra facial hair' because they were needed to help set the scene.
But what about applying for a job as a shop attendant or a waiter?
'Casting'
It could be argued that employers are perfectly within their rights to want to create a certain ambience or style within their shop and that the staff's service style and appearance go a long way in helping to create an overall impression of a business on a customer.
High Street brand Hollister came to Northern Ireland in 2009 and now advertises for their shop assistants under the term 'model'.
On their recruitment website they say: "Models are an important part of the in-store experience and represent the brand through personal style, providing customer service and maintaining presentation standards."
It is also becoming increasingly common for jobs or opportunities to be advertised under the term 'casting' which implies your personal appearance is important.
One Belfast-based nightclub El Divino recently stated on its Facebook page that they were looking for 'new faces' and asked for a recent picture to be included as part of their application form.
Employers are only acting illegally if they make recruitment decisions on the grounds of sex; pregnancy or maternity; gender reassignment; married or civil partnership status; religious belief; political opinion; disability; race, colour, nationality, ethnic or national origins; sexual orientation and age.
If they ask for a photograph in an application form, an employer only acts illegally if they use it to check any of these characteristics, for example, the race or gender of a candidate or to determine if the candidate has some sort of physical disfigurement which would mean they would be deemed to be a "person with a disability" and entitled to protection against disability discrimination.
So if you are lucky enough to get an interview or 'casting' what should you decide to wear?
Something that shows off your best features, or should you stick to a traditional corporate look and let your CV speak for itself?
Sarah O'Neill, a wardrobe specialist and stylist in Northern Ireland, said: "First, research the company you hope to work for- check out their everyday dress code and dress slightly more formally than that for your interview.
"It's better to be a bit too formal than too casual. The interviewer will appreciate that you have made an effort," she said.
"The most important thing is to make a great, professional first impression. When you get the job, you can show your more stylish side."
At the moment there is no legal policy on discrimination on the grounds of so-called lookism when applying for a job in Northern Ireland or the rest of the UK.
However, in a job climate where opportunities in most sectors are limited, it could be said looking good could be an advantage.