Northern Ireland property firm Valto reports £21m loss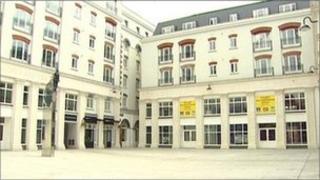 A major Northern Ireland property firm has reported a £21m loss in its 2012 accounts.
The loss for Valto comes on top of a £36m loss in the 18 months to March 2011.
Valto is the firm behind projects such as St Anne's Square in Belfast and Junction One in Antrim.
It had a 2012 operating profit of £3.4m but that was wiped out through losses on the sale of investments, write-offs and a £6m interest bill.
The company now has net liabilities of £169,000 compared to net assets of £95m in 2009.
A note in the accounts states that this "reflects a significant downward revaluation of the group's investment property interests following independent valuations".
The group owes the Ulster Bank about £120m and says it has reached agreement for the renewal of £53m of those loans with a "reasonable expectation" that the other outstanding facilities will be renewed.
The firm, is owned by brothers Shamus and Thomas Jennings, and was previously called Cusp.
The Jennings brothers are regularly rated as among the wealthiest people in Northern Ireland.
In 2008, they sold their building services firm, Rotary, to an Australian engineering company in a cash and shares deal worth £95m.
The same year they sold the Cromwell Hospital in London in a £90m deal