Exotic visitors spotted in gardens and high streets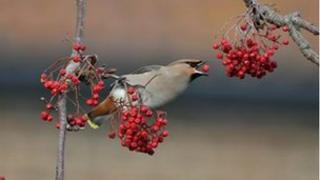 Rare sightings of waxwings have been made in County Fermanagh as the Scandinavian bird spreads its wings further west in search of food.
Its distinctive feathers and crested head make it an exotic looking visitor amongst the more common garden birds.
They have been spotted in gardens, alongside rural roads and even in the High Street in Enniskillen.
Last year only two waxwings were spotted in the area.
It is the first time since 2006 they have been seen in such large numbers.
Brad Robson, the RSPB area manager for Fermanagh, said: "In most years, one or two might get to the east of Ireland but this particular year we've had a complete failure of berry crops across the whole of continental Europe and Britain and Ireland.
"Consequently waxwings have kept moving further and further west so we have waxwings everywhere at the moment.
"They're amazing looking things so anyone who's used to looking at birds in Fermanagh seeing our admittedly lovely robins and chaffinches and that sort of thing will still be taken aback when they see a waxwing.
"They're really spectacular and most people's comment is: 'I had no idea we have birds like that in Fermanagh'."
The mass migration of birds away from their usual habitat is known as an irruption and according to some estimates up to 12,000 waxwing sightings have been made in the UK this winter, some in flocks of several hundred birds.
They are particularly fond of berries found on rowan trees and hawthorn bushes and can even be seen in town centres and supermarket car parks.