Bomb thrown at house in west Belfast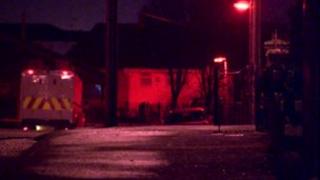 A woman has escaped injury after a bomb was thrown at a house in west Belfast on New Year's Eve.
It is understood dozens of families were forced to leave their homes after the device was thrown at Glenalina Park, Ballymurphy, in west Belfast.
A number of houses were evacuated and army bomb officers were called to the scene.
The police later confirmed the device was "viable". It has been taken away for further examination.
Detectives said they were following all lines of enquiry at the moment.
Residents were taken to a community centre during the alert but allowed back home at 12: 20 GMT on Tuesday.
Sinn Féin councillor Steven Corr condemned the attack.
"This is one of the most important family nights of the year and local residents are having to leave their homes," he said.
"This community is angry and annoyed that this has been visited upon them."
SDLP councillor Colin Keenan said: "New Year's Eve is one of the main nights of the year where family and friends come together to herald in a fresh new year.
"But instead of this being a fun occasion, many found themselves having to leave their homes due an attack on a house with what was believed to be an explosive device."