Dissident republicans 'remain determined to kill'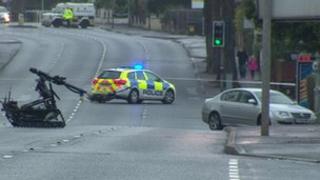 A few seconds on his knees to look under his car saved a police officer and his family from carnage on their way to have Sunday lunch.
As his wife and two young children stood watching, he carried out his routine search of his vehicle and spotted a device intended to kill him.
"We are very grateful that this officer acted in the way he did and checked his car, otherwise the consequences would have been absolutely devastating for him and his family," says Assistant Chief Constable George Hamilton.
Hours after it was discovered, the bomb was defused in a controlled explosion by the army.
However the device was recovered partially intact and police hope forensic tests on the remains could identify those who made and planted it.
"We are hopeful that it will provide useful evidence," says George Hamilton. "The fact that it was discovered and it didn't ignite means that we obviously have a starting point forensically."
Booby-trap
This latest attempt to kill a police officer did not come as a surprise. The police have been warning publicly and privately for months now that dissident republicans remained determined to kill police officers.
While the police say dissident groups still do not possess the capacity needed to mount a sustained campaign of violence, there has been an increase in what is called "operational tempo" in recent months.
On the 1 November, prison officer David Black was shot dead as he drove along the M1 on his work to work at Maghaberry prison.
Less than two weeks later, an undercar booby-trap bomb was found lying on a road in west Belfast. It is believed to have fallen from a car belonging to a soldier.
In recent months police in Belfast and Londonderry have recovered horizontal mortars capable of piercing the armour of police vehicles. If fired successfully, they could have resulted in multiple fatalities.
While dissidents are continually targeting police officers, historically the end of the year and the early part of the New Year are regarded as particularly dangerous.
During the troubles, the Provisional IRA frequently mounted attacks at those times to signal that they remained a threat.
Police officers are also considered to be more vulnerable around this time of year because their focus is on spending time with their families, shopping and socialising.
"There is always a concern around this time that officers will let their guard drop and stop carrying out their usual security routines," says a source.
Combat
"Thankfully on this occasion this officer remained vigilant and that has saved his life."
During the past year, police have arrested 115 people suspected of dissident republican activity, and 35 of them have been charged.
But the threat they pose has not diminished.
The organisation that represents rank and file officers said more resources are urgently needed to combat the dissident threat.
Terry Spence, the chairman of the Police Federation, has been lobbying for additional 1,000 officers to be recruited.
" I think it's incumbent upon the Chief Constable to ensure that the service is adequately resourced," he says. "We firmly believe it's not and action needs to be taken urgently to resolve this problem."
Sixty four officers have been forced to leave their homes during the past five years because of intelligence that they were being targeted for potential attack.
Many others have had additional security measures like bulletproof glass installed in their homes.
Police commanders fear dissidents will step up their efforts to target officers in the year ahead and have issued fresh advice to all staff to be vigilant.