Sinn Fein's Martin McGuinness resigns as Mid-Ulster MP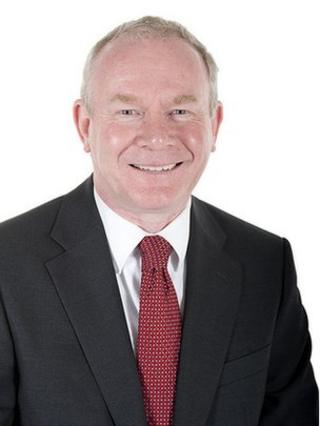 Martin McGuinness has confirmed that he has formally resigned as the MP for Mid-Ulster.
"I have served formal notice of my resignation from the position of MP for Mid-Ulster with immediate effect. This is in line with my party's commitment to end double jobbing," he said.
Mr McGuinness will remain as the Deputy First Minister for Northern Ireland.
Mr McGuinness was elected MP for Mid-Ulster in 1997, but he has never taken his seat in Westminster.
The party has an abstentionist policy, with all of its MPs refusing to attend Parliament.
"I am resigning as MP but I have no intention of leaving Mid-Ulster. South Derry and East Tyrone have suffered immensely as a result of the conflict," he said.
"I will always be grateful to the people of this area for trusting me to represent them and their interests. I will of course continue to represent the Mid-Ulster Constituency in the Assembly.
"I am honoured to do so, both as an MLA and as deputy first minister in equal partnership with Peter Robinson."
A by-election is expected to be held in the New Year.
Francie Molloy will contest the seat for Sinn Fein.
Traditional Unionist Voice leader Jim Allister has called for a single unionist candidate to contest the by-election.
"Now is the time for a single anti-Sinn Fein candidate to maximise the pro-British vote," he said.
"With both the DUP and UUP aligned to Sinn Fein in government it is unlikely that such a unifying candidate could emerge from their ranks.
"I am, therefore, calling on both to join TUV in declaring a willingness to secure a unity candidate."