Union flag protests held in Belfast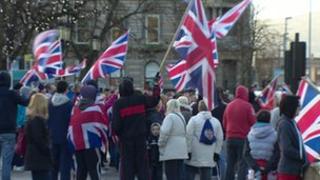 Further street protests have been held in Belfast over the decision to restrict the flying of the union flag at Belfast City Hall.
At about 17:40 GMT, protesters gathered at the junction of Albertbridge Road and Templemore Avenue in east Belfast.
Earlier on Saturday, up to 100 people took part in a small demonstration outside Belfast City Hall, amid a heavy police presence.
It passed without incident and there was no disruption to traffic.
Similar street protests have been taking place across Northern Ireland for almost a month.
They began on 3 December, when Belfast City Council voted to fly the flag on designated days rather than all year round.
Sinn Fein and the SDLP wanted to remove the flag completely but backed a compromise motion, proposed by the Alliance party.
The motion was passed by 29 votes to 21.