Residents return home after security alerts in Londonderry and Portrush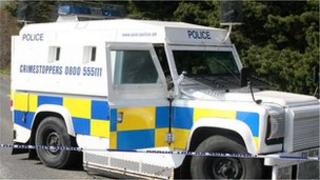 Residents who were caught up in two separate security alerts in Londonderry and Portrush have been allowed to return to their homes.
In Derry, houses were evacuated in Drumleck Drive while the police and Army dealt with two suspicious objects. Both have been declared hoaxes.
In Portrush, the Army carried out a controlled explosion on a suspicious object in Glenmanus Park.
It has been taken away for further examination and the alert has ended.
Glenmanus Park has reopened to traffic and residents have been allowed back into their houses.
In Londonderry, Templemore Sports Complex was made available for people who had to leave their homes during the hoax alert.
Sinn Fein Councillor Tony Hassan said a republican commemoration which was due to take place in the area on Saturday had to be moved to the city cemetery.
SDLP councillor Sean Gallagher said the disruption caused by the alert was "totally unacceptable".
"Some people have gone to relatives," he added.
"It's just an absolute disgrace in a built-up area."