Ambassador impressed by cardinal's 'religious character'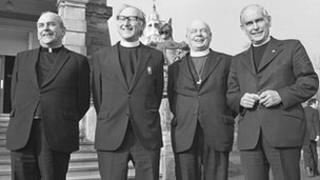 The UK ambassador to the Irish Republic, Sir Leonard Figg, was impressed by the late Cardinal Tomas O Fiaich during an official visit to Armagh in February 1982, according to previously confidential files just released in Belfast.
Sir Leonard had travelled north with the permission of the NIO to meet the cardinal and his Church of Ireland counterpart, Archbishop John Armstrong, in the wake of the bitter hunger strike of the previous year.
He reported to P H C Eyres at the Foreign Office: "The cardinal was genial and welcoming… He did not mention the Maze Prison, although he later discussed the hunger strike…
"Contrary to expectations, I found him a sincerely religious character who genuinely appeared to treasure the close relationship he has formed with his Church of Ireland and Methodist opposite numbers."
On the hunger strike, the cardinal had suggested that the British might have avoided it if they had offered "own clothing to all prisoners earlier in 1981".
Figg reported to London: "I suggested that this might well be so but that we would have had to face a hunger strike later on, since I did not believe that the deadly onslaught on the prison system represented by ten deaths could have been warded off by fiddling with the details of prison administration."
'Atrocious'
He added that both parts of Ireland would have been destabilised by the granting of political status and felt the cardinal agreed with him.
The ambassador's conversations with both prelates inevitably turned to the topic of Rev Ian Paisley.
Figg noted: "Both the cardinal and the archbishop loathe Paisley and have their Paisley stories."
While O Fiaich had never met the DUP leader, Armstong had and informed the official that Dr Paisley had asked him to join him in a deputation to the Secretary of State to discuss the Kincora sex scandal.
Figg recorded that the archbishop had turned Paisley down on RUC advice. This had resulted in "two of Paisley's aides making atrocious telephone calls to the archbishop personally."
Dr Paisley's suspicions of the head of the Catholic Church in Ireland surfaced during a tense meeting with Prime Minister Margaret Thatcher at Westminster in June 1981 during the hunger-strike.
He voiced his concern to Mrs Thatcher about the pressures being brought to bear on the government by the Catholic Church in favour of a compromise with the hunger strikers, warning: "The government should not be deceived by Cardinal O Fiaich: he spoke with a double tongue."
Mrs Thatcher said that she thought the bishops had been courageous in their statement but he replied that any concessions to the hunger strikers would produce "a terrible backlash in the Protestant community".