94,000 litres of sludge dumped in Northern Ireland in 2012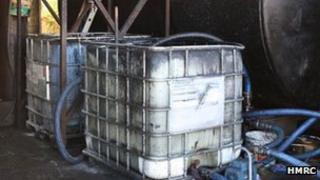 Ninety-four thousand litres of toxic sludge were dumped by fuel launderers in Northern Ireland in 2012, HM Customs has revealed.
Twenty-two laundering plants capable of depriving the Inland Revenue of £68m in taxes were shut down over the course of the year.
The toxic sludge is a by-product of fuel laundering.
Customs officials said they would continue to crack down on the gangs responsible in 2013.
"Laundered fuel is sold at a reduced price and motorists may think they are getting a good deal because it is cheaper," Pat Curtis, national oils co-ordinator for HMRC, said.
"But I would caution them to think again as the true cost is far from a bargain for anyone.
"We will continue to carry out raids and roadside checks to detect those attempting to smuggle, launder, sell or use illicit fuel. We are all losing out."