Harry Warwick: Family hope Belfast pensioner found safe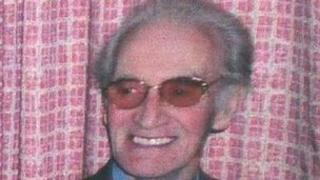 The family of north Belfast pensioner Harry Warwick have said they are devastated that he has been missing for more than a week.
The 78-year-old - who has dementia - was last seen on 19 December at his nursing home on the Crumlin Road in north Belfast.
Mr Warwick's nephew, Paul said he hoped his uncle would be found safe and well.
Police have described Mr Warwick as frail and vulnerable.
"My uncle Harry is a gentleman," Mr Warwick said.
"He wouldn't pass you on the street, he'd always say hello to you - well-dressed, a good man, he wouldn't hurt anybody.
"I'm hoping he's in somebody's house, an old friend's house, sitting having a cup of tea or something with him and that nobody realises that he's missing from the nursing home."
Police have conducted house to house enquiries in parts of north Belfast and followed up reported sightings.
Teams have also been looking in country parks and quarries.
Several hundred leaflets appealing for information about Mr Warwick were issued at the Cliftonville v Crusaders football match on Wednesday.