Father and son in court over murders in Turkey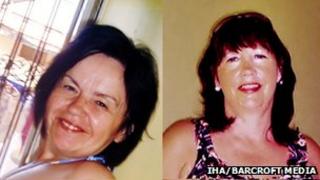 The father and son accused of murdering two women from County Down in Turkey last year have been in court for the latest stage of their trial.
Eyup and Recep Cetin are charged with the killings of Marion Graham and Cathy Dinsmore.
Their bodies were found with multiple stab wounds in a wood on the outskirts of the city of Izmir in August 2011.
Recep Cetin is the former boyfriend of Marion Graham's teenage daughter Shannon.
At the hearing before a panel of judges in Izmir, Recep Cetin, 22, said his father Eyup was innocent and should be acquitted.
Recep Cetin told the court: "My father has nothing to do with this event. It is my problem."
Eyup Cetin said: "I've been in jail for about a year. I'm innocent. I demand my release and acquittal."
The lawyer representing the victims' families, Baris Kaska, said the court should examine the details of the crime scene.
He said: "It will be understood when it is researched that it is impossible that only one person committed this crime."
Mr Kaska also told the court that DNA analysis showed another person besides Recep Cetin was at the scene at the time of the murders.
A lawyer for Recep Cetin said that the accused had acted in self-defence and demanded he be released too.
But the court ruled that the defendants should be remanded in custody owing to the level of suspicion and the nature of the crime.
The next hearing will take place on 20 February.