Fitzwilliam Hotel in Belfast reduces losses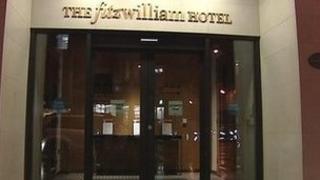 The Fitzwilliam Hotel in Belfast reduced its annual losses to £257,000 in 2011.
The luxury hotel opened in 2009 and has accumulated losses of £1.7m
A note in the accounts states turnover and profitability have improved and there would be further growth in 2012, showing a performance "significantly above" that achieved in 2011.
The details are contained in the annual accounts of Graffan Hotel Ltd, the firm which owns the Fitzwilliam.
The hotel, which is next to the Grand Opera House on Great Victoria Street, employs about 75 people.
Turnover increased from £4.1m in 2010 to £4.4m in 2011.
A report from the consultancy PricewaterhouseCoopers has suggested that 2012 has been the best year for major Belfast hotels since 2006.
The report, which was published in November, found that year-on-year occupancy for the eight months to the end of September was up 15% on the year before, and overall revenue was up by 20%.
It identified the opening of the Titanic Belfast tourist attraction as a major factor in the improved performance.