Small explosion on Springfield Road 'caused by commercial firework'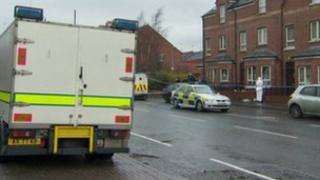 A small explosion outside a house in west Belfast was caused by a "commercial firework", police have said.
It happened on the Springfield Road at about 08:45 GMT on Thursday.
A three-month-old baby girl, her mother and grandmother were all in the house at the time, but were not injured.
Gavin Davine, whose mother lives in the house, said the attackers were "hooligans".
Family members said there had been a previous incident a few years ago.
Sinn Féin's Fra McCann said the attack could easily have seen someone killed or seriously injured.
Speaking after visiting the family this morning, the West Belfast MLA said: "Obviously the family are shaken up after this attack and cannot understand why they were targeted.
"Fortunately no one was hurt but the attack could easily have seen someone seriously injured or killed, including children that were in the house at the time.
"This is a respectable family who do not understand why they have been targeted in such an attack.
"Anyone with any information about the attack should bring it forward to the PSNI."