Firm reports boost for Brussels sprouts sales in Northern Ireland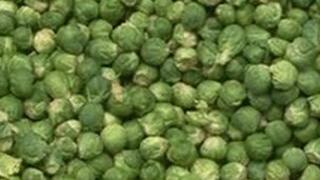 Brussels sprouts are a vegetable that divide opinion, but it appears they are seeing an increase in popularity.
A chain of grocery shops in Northern Ireland has seen a 15% increase in the sale of sprouts in the past 12 months.
Iain Dickson is with the Henderson Retail Group who says the "production of sprouts is increasing year on year".
"Last season we put approximately 28 tonnes of sprouts through the warehouse and so far we are already ahead of last year's sales at this stage," he said.
A 112-year-old family farm on the edge of Comber, County Down, grows the most sprouts in Northern Ireland.
One hundred acres of sprouts are grown on it every year.
Stephen Murdoch runs the farm and said that although production costs were higher in Northern Ireland than in the rest of the UK, "demand for sprouts is on the rise across the whole year".
Iain Dickson attributes the sprout in sprout sales to celebrity chefs.
"Sprouts with bacon, sprouts with butter, even sprouts with a twist of orange on them," he added.
"I think people don't like to admit they actually might like sprouts, they really do and it's not 'just for Christmas'."
Sprout crops are hand pulled and put in a cold store within an hour of pulling.
Farm workers pull the sprouts out of the ground from their stalks, while workers on a trailer strip the sprouts off their stalks using a machine.
When sprout pullers on the farm are not using the harvesting machine they can pull as many as 160 stalks a day.
At this time of year it means long hours as Stephen Murdoch explained.
"It could mean maybe 20 acres harvested in the run-up to Christmas and we could be working up to 20 hours a day," he added.