Derry family to stay connected despite son being Australia bound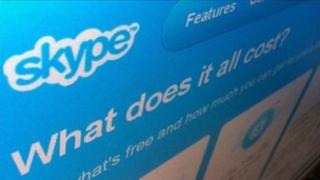 With more young people emigrating from Northern Ireland in search of job opportunities - many families will be doing their best to stay connected over the festive season.
The sound of Skype will be as common in some homes this Christmas as Christmas carols.
Ryan Young, 20, has emigrated from Londonderry to Perth in Australia in search of work.
He said he plans to be there for a year at least and then "hopefully stay there for life".
"I'm not working, so that's another reason for heading off," he said.
"There's not many opportunities here so Australia is looking good."
Ryan's Mum, Louisa, says it is difficult being without him at Christmas.
"It's emotional, but I understand his reasons for wanting to do it," she said.
"It is sad that he has to leave home to try and get an opportunity for himself, but I would never stand in his way."
Louisa says social network sites and Skype help the family keep in touch with Ryan while he is away.
"Technology does help a lot," she said.
"With Skype and e-mail, you feel as if he's only down the road.
"A mother being a mother, you never let go of your child.
"But you have to let them go, you have to let them lead their life."
Derek Young said that while he would miss his son very much, he understands his reasons for leaving.
"Christmas is a family time," he said.
"It is hard but we realise that Australia is probably a better place for Ryan to be in terms of opportunity for the future.
"Unfortunately there isn't very much here.
"There aren't the same opportunities anymore.
"We will all miss him, but we know that going is probably the best for Ryan's future."