Young carers: The added responsibility that Christmas brings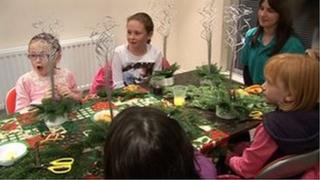 Tidying the house, putting up decorations, cooking the turkey and washing up all those dishes, just some of the jobs they've had to do over the last few days.
These chores are normally seen as the parent's job in many houses but for 8000 young carers across Northern Ireland, Christmas brings extra responsibility to support their families.
We met a group of young carers in east Belfast who are attending a flower arranging class, part of an initiative organised by local charity Crossroads.
The charity is running the workshops to not only give the young carers a bit of respite time but also teach them some vital skills.
In Northern Ireland approximately 8.5% of children act as a carer for another member of their family who may be ill or disabled, in many cases this can be a terminal or degenerative illness.
'Difficult experience'
The Crossroads Young Carers project aims to provide them with support, social activities, practical help and respite.
The charity has opened a new building on the Upper Newtownards Road.
It is a specially designed facility which opened in 2011, with a high tech sensory room, training room, large kitchen for cookery demonstrations and soft play area.
Richard Best, project manager at Crossroads, said that Christmas for the carers would be a very different experience to that of other children.
"Being a young carer at Christmas would bring lot of additional responsibilities, they would have to help out a lot more, they may even be responsible for cooking the whole Christmas dinner, that is if they are fortunate enough to have a Christmas dinner with their families," he said.
"On Christmas morning they may have to get their mum and dad up from bed and do personal care on them. Wash them, shower them, take them to the toilet and that would even be before they get their presents."
Katelyn Gribben, 11, one of the young carers at the centre, explained what Christmas was like for her.
"I make sure everybody is up, then I get my mummy's wheelchair for her, so we can all come down at the same time and open the presents."
She said that it was important for her to meet other young carers and share their experiences.
"With your normal friends, if you tell them about your family, you think they understand but they don't really because they don't have anyone to care for," she said.
"With the young people here they understand because they have to care for people as well.
"We talk about what they do in their lives but also lots of girly things as well."
Christmas taboo
Saffron Wallace, 10, agrees with Katelyn about how important it is to socialise with the other carers.
"On Christmas Day my sister wakes me up and then I get my brother up, my mum gets herself up then my nanny comes over and gives us some presents," she added.
"I help my mum with the cooking and the cleaning.
"It's exciting getting to meet the other young carers and I'd be really sad if it wasn't here.
"It's very important to me to know that other kids have to do the same stuff as me."
As well as socialising, the young carers have also been offered classes in cooking, flower arranging and a variety of other skills.
Jayashree Sugumaran, 10, who has been a young carer since she was eight, said she felt the classes had helped her.
"I've really enjoyed the flower arranging. I've never done it before and I think my mum will really love it as I've used all her favourite flowers," she said.
Richard Best said it was important to remember and support young carers over the Christmas period.
"I think there is always a taboo with young carers at Christmas as people don't want to think about it," he said.
"They don't want to acknowledge that children as young as five can be taking on responsibilities that you shouldn't have to take on until your an adult but unfortunately this is what these kids have to do."
While the charity is able to support some young carers over the Christmas period. They can't help them all.
About 80 young people are still on a waiting list for help from the charity.