High winds block Northern Ireland roads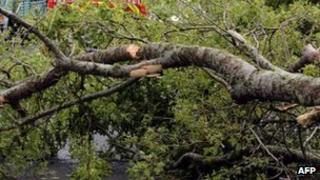 High winds have had an impact across the eastern part of Northern Ireland with a number of roads blocked by fallen trees.
All main roads have been cleared, but there are still reports of debris on some smaller roads.
About 50 homes in Downpatrick were without electricity because of the winds, which reached 60mph.
Northern Ireland Electricity said that the electricity network has coped well with the weather.
Cathal Brown from the Roads Service said crews worked through the night to clear blocked roads.
"It's been a very busy night, high winds have brought down a number of trees closing roads especially on the eastern side of the province," he said.
"Belfast and County Down are particularly affected, but most of the roads have been reopened and we are on site working on the remainder.
"Drivers should take extreme care, and drive appropriate to the conditions of high winds and rain."
In the Republic, thousands of homes have been left without power.
Gale-force winds, with occasional hurricane-strength gusts, caused severe disruption in many areas, bringing down trees and power lines.
At least 1,300 homes in Longford are without power, while about 300 homes in Drogheda have been affected.
ESB Networks has said some customers are also without electricity in parts of Ennis, Waterford, Limerick and Monaghan.
Irish police have warned motorists of extremely dangerous driving conditions in many areas.
There are reports of debris and fallen trees in many parts areas.
Weather forecasters have said the winds will ease later, but those travelling home for Christmas should allow extra time for their journeys.