Union flag protests: Two petrol bombs thrown in Belfast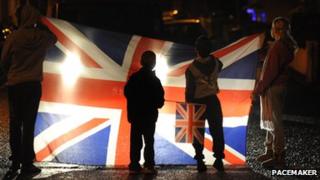 Two petrol bombs have been thrown at police in east Belfast following a loyalist flag protest.
It happened on the lower Newtownards Road on Friday. There were no injuries.
The Police Service of Northern Ireland dealt with more than 50 protests within an hour across Northern Ireland as commuters were heading home from work.
Most were relatively low key, and passed off without incident. A number of roads were blocked and bus services were suspended for a time in the city.
Officers in riot gear used dogs to remove demonstrators from the Lower Newtownards Road.
Two petrol bombs were thrown at police lines near Pitt Place. Police said the the main protest had dispersed when the petrol bombs were thrown.
A PSNI spokesperson said they were thrown by a small number of people who had remained in the area.
There were no injuries and no damage was caused.
The protesters are angry that the flag will not be flown every day at Belfast City Hall, a change the council voted through just over two weeks ago.
Businesses in Belfast have reported a drop in trade in the normally busy pre-Christmas period.