Mary and the three wise donkeys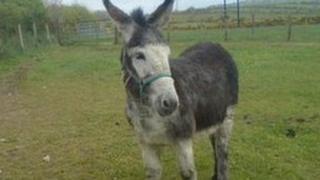 'Mary', a pregnant donkey from Donegal, has found room at the stable along with her three wise men after they were found wandering in a graveyard near the village of St Johnston.
A donkey sanctuary in County Donegal has been appealing all week for people to take on the four donkeys.
The Donegal Donkey Sanctuary near Raphoe said it was full to capacity with 54 other donkeys and could not accommodate them.
Danny Curran, who runs the sanctuary, said he was inundated with calls after he made an appeal on BBC Radio Foyle for homes for the animals.
"I am truly overwhelmed by the response we have had. It is fantastic that the four donkeys, one who is in foal, have been taken on by two very kind men in the area."
Mr Curran said the donkeys were first seen in a graveyard and later found along a road.
"We contacted the Garda and told them there was no room at the sanctuary and then I started contacting the media looking for homes. We used to have an empty stable for emergencies but not any more," he said.
"We pick donkeys up all the time and it's slowly becoming a problem with the climate we are in. People who own donkeys need to take extra care of them.
"I'm so happy the donkeys weren't put to sleep. That is something we totally condemn and the support we have been getting on Facebook shows that donkeys are well and truly loved throughout the county."
Albert Lynch and George Foster, farmers who live near each other in St Johnston, contacted the sanctuary within an hour of hearing the animals' plight.
Mary and another donkey will join Mr Lynch for Christmas. The other two animals will be moving in with Mr Foster.
"There was no way I was letting anything happen to these four donkeys," Mr Lynch said.
"I have three grandsons and this can be an early Christmas present for them. I love animals, but when I know I've done a good deed for them it's even better.
"One of the donkeys, Mary, is in foal and will need to be looked after. I'm so pleased that I can be that man, especially around Christmas. Donkeys are the kindest of creatures and I will do everything to make sure they get the best care."
Mr Curran said the demands for the services of the Donegal Sanctuary are increasing every year.
He said there are plans to build five more stables and a small visitors' centre at the sanctuary, which depends on voluntary contributions, in the new year.