Keady murders: Brothers to be extradited to N Ireland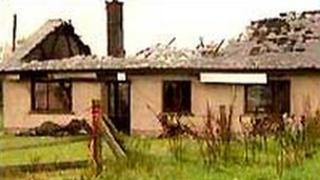 Two brothers wanted in connection with a double murder in Northern Ireland six years ago are to be extradited from the Republic of Ireland.
The case relates to the murders of a County Armagh couple who were beaten with hammers and doused in petrol before being set on fire.
Thomas O'Hare and Lisa McClatchey were killed in Tassagh, near Keady, in 2006.
Police arrested the brothers, Niall and Martin Smith, in County Louth and County Dublin last week.
Murders
They were detained using European arrest warrants and were brought before the High Court in Dublin.
The charges were connected to arson and the murders of Thomas O'Hare and Lisa McClatchey at their home at Foley Road, Tassagh, County Armagh.
The brothers consented to being extradited and were remanded in custody.
They are expected to be sent to Northern Ireland within two weeks.