Northern Ireland's young entrepreneurs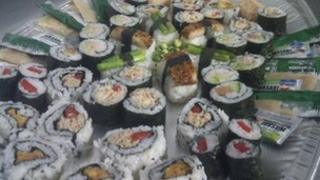 It has been another extremely difficult year for businesses in Northern Ireland with hundreds of jobs going at long established companies like FG Wilson and the Patton Group.
However, that has not stopped young people in Northern Ireland from going out and starting their own businesses.
Invest Northern Ireland says there has been a dramatic increase in young people considering starting a business as an employment option - the number has nearly doubled in the last nine years.
Twenty-six-year-old Jonathon Duncan, from Belfast, is one of those young people.
He always had a gut feeling that he wanted to be a business owner, but like many, tried to ignore the calling because of the difficulties and uncertainties, instead choosing the safer option of studying a degree in psychology in Dundee.
"After I completed my studies I worked in property for a year, purely as a way of earning a good wage so I could save up to travel the world," Jonathon said.
"Some people go travelling after university to find out what they actually want to do in life. I knew what I wanted to do - run my own business. I just needed to find the idea to start it."
It was in New Zealand that Jonathon noticed the popularity of sushi - a common enough dish nowadays and something you would find easily in most supermarkets in Northern Ireland.
But what he noticed was the difference in quality between fresh and convenience.
"After some further research I quickly realised that sushi is one of largest growing food trends currently," Jonathon said.
Gap in the market
Although Jonathon had discovered a gap in the market, he had also discovered something he knew relatively little about - let alone be able to make himself.
So he decided to finish his travels by taking a sushi making course in Sydney.
He then returned home and went back to his job in property.
But he also went ahead making solid foundations for his wholesale business, by completing the Go For it programme, as well as the health and safety courses needed to trade legally.
"Whilst completing my certificates I dragged myself and my mates out of bed early on a Saturday morning to ask as many people as possible what they thought of fresh sushi and continued to practice making sushi myself," he said.
"I went part time at the estate agents and every day I got up at four am to make sushi and then deliver it before starting in the office in the afternoon."
Fast forward a year and the sushi production train has moved from Jonathon's Kitchen, into bigger premises in Carrickfergus Enterprise Park, and he currently employs four people supplying produce to over 25 convenience stores and cafes in greater Belfast and the mid Ulster area.
He is not alone in becoming a director of his own company in his 20s.
Conor Foy and Declan Owens, both 27, from Tempo in County Fermanagh, are the directors of CD Consulting.
Declan said neither of them ever envisaged being their own boss so early on in their careers.
"I have a degree and masters in environmental planning and Conor trained as an engineer," he said.
"Traditionally the route for environmental planners coming out of university has always been to work for the public sector first and then if you are lucky the private, but being unemployed forced me to look at other options.
"I sought advice from programmes such as Steps to Work, and the Fermanagh Enterprise Centre, and after spotting a model for wind turbine energy that wasn't available in Fermanagh and the surrounding counties, we envisaged bringing sustainable wind turbine energy to the west."
Fast forward over just a year and they have brought their vision to life, employing two other people in a county which has suffered many job losses and have won their first business award.
But as Declan told me perhaps the most priceless commodity when starting a business is not cash investments or mentoring from a self made millionaire, but how much time you are willing to invest in it as;
"You can have all the money and business expertise in the world, but if you don't have get up and go you don't have anything," he said.