Glenavy incinerator plan turned down by Alex Attwood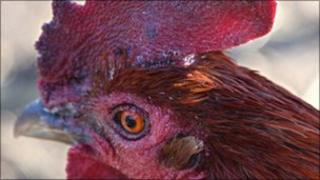 The Department of the Environment has turned down an application for a major chicken litter incinerator near Glenavy on the shores of Lough Neagh.
Rose Energy wanted to build a £100m biomass burner, which would have used poultry litter and meat and bone meal as fuel.
The poultry industry lobbied strongly in favour of the project but locals fought a long campaign against it.
Now the DoE has issued its planning decision, refusing approval for it.
Environment Minister Alex Attwood said it had been a "complex planning application" but that environmental and other impacts had outweighed the economic arguments.
"In my view a facility of this scale should not be located in a sensitive rural location on the shores of Lough Neagh," he said.
"I am also concerned by the negative impact on the amenity of surrounding dwellings and the wider community as well as a general increase of heavy traffic on rural roads."
'Hugely disappointed'
Rose Energy had argued that it would generate a third of Northern Ireland's target for green energy as well as providing a significant economic boost injecting millions of pounds into the local economy.
Rose Energy chairman Tony O'Neill said he was hugely disappointed by the decision, adding that the implications for the agri-food industry were considerable.
He said the planning application had been "robust and thorough" and the proposed technology had been proven worldwide.
Mr O'Neill added that until a solution is found, the growth of the poultry industry in Northern Ireland could be further restricted.
"It is now up to government to provide focus and support to find alternatives as a matter of urgency," he said.
Ulster Farmers' Union President Harry Sinclair said: "We have been trying to secure a solution for the disposal of poultry litter since 2002 due to new environmental rules being imposed by the European Union.
"After all that time we are effectively no further forward."
Paul Frew of the DUP also criticised the decision.
"The refusal issued on this application is a huge blow to the local agricultural industry as the necessity to deal with this waste is absolutely vital," he said.
TUV leader Jim Allister described it as a "savage blow" to the agricultural sector.
He said it suggested that the department was "utterly out of touch with the needs of the poultry industry and the threats posed by non-compliance with EU requirements".
"With no realistic alternative available for litter disposal the minister has put the sector in an impossible position."
However, Sinn Féin's Mitchel McLaughlin has welcomed the decision saying it was the right one.
He said Lough Neagh was not a suitable site for an incineration plant and the proposal to abstract water would have damaged the lough's ecosystem.
The SDLP said the incinerator should never have been proposed in an area of high scenic value in the first place.