Family of ill-treated pensioner let down by system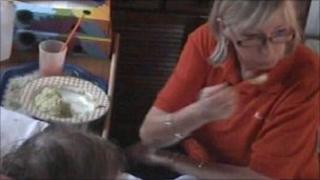 The family of a pensioner ill-treated by a care-worker have said their faith in the justice system had been shaken.
Ivy McCluskey's daughters, however, said publicity surrounding the court case may save other elderly people from suffering the same fate.
Care-worker Patricia Young was put on probation for two years and barred from looking after vulnerable people.
The original case against her was deemed invalid because of an alleged oversight by the prosecution service.
Mrs McCluskey, who suffered from Alzheimer's disease, had survived a stroke and lost her speech. She died in 2009 after Ms Young had stopped caring for her.
Validity
Ms Young, 54, of Mandeville Avenue, Lisburn, had initially pleaded guilty to two charges of ill-treatment. However, the first case against her was dropped just as she was due to be sentenced in January 2011.
At the time, her lawyers raised a legal issue about the validity of the proceedings. A High Court legal challenge on her behalf was dismissed in May this year.
Ms Young changed her plea to not guilty when the case resumed in Lisburn Magistrates Court, but she was found guilty on two charges of ill-treatment.
Speaking after the verdict was announced on Thursday, the McCluskey family said their faith in the justice system was "very low and still is," following the two-year legal process.
They told Lisa McAlister of BBC Radio's Nolan Show they became suspicious in October 2009 after finding a cup of their mother's drink hidden under a bin. Her fluid chart had no record of her refusing liquids so they decided to install a camera on the premises.
Mrs McCluskey's daughter Mandy said they were shocked to see video footage of the care-worker eating the 70-year-old's food while the pensioner, who had Alzheimer's disease, looked helplessly on.
'Different story'
She said that during the trial Ms Young portrayed a "completely different story from what was there in black and white".
"When we first saw the DVD our initial thoughts were that she was sitting in front of mummy as if she was sitting in a café or restaurant.
"She claimed she was doing her duty to the best of her ability, then she contradicted herself by saying she was stressed, she was in a really bad place.
"It's beyond words - all about her marriage. What had that got to to with not feeding mummy?"
Mandy McCluskey described the experience as "a total nightmare and has been ever since".
"At times your belief in the justice system was very low. It still is. It might be a case number to them, but she was our mother."
MLA Paul Givan, chair of the Stormont justice committee, who knows the McCluskey family, said he thought they "had been appallingly let down".
"This a terrible example of where the Public Prosecution Service has failed to provide this family with the support that they needed," Mr Givan said.
"Rather than this family having to fight for justice, the Public Prosecution Service should have been fighting for them and that hasn't been the case."