The tale of the 'vanishing house' on Tory Island
By Louise Cullen
BBC NI News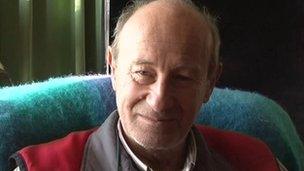 The story of how a 150-year old house on an island off the Irish coast simply vanished has become the subject of international fascination, as the owner turned to the courts to find out what had happened to his Tory Island retreat.
He lost everything in the wake of the house's destruction.
Neville Presho, a successful engineer, fell in love with Tory Island when he first visited in the 1970s.
He quit his career and raised money to make a documentary about life on the island, which is off the coast of Donegal.
"Older islanders say that my film, An Oileán or Island, was the best film that was ever made on Tory," said Neville.
"It was just the people going about their fishing, harvesting the crops, digging up potatoes - just general island life and especially people building boats and launching them."
On the shore of Tory Island stood a 150-year old stone house. Thick-walled, whitewashed and south-facing, it seemed to Neville the ideal place to make his own footprint on the island he loved.
He made inquiries and bought the property for 3,000 Irish punts in 1982.
"It was basic," he said. "I mean, a lot of the panelling was made out of old tea chests covered in paper, but it served its purpose. It wasn't there for an Ideal Homes award, you know?"
While he made visits to the island and brought friends to stay at his new house, his career as a documentary and drama film maker was beginning to soar. Eventually he emigrated from County Down to New Zealand and set up home there with his wife and children.
In 1993, Neville's Irish solicitor contacted him in New Zealand, to say there was interest from a buyer for his Tory Island house.
After discussing it with his wife, Neville decided it was unlikely they would be returning to Ireland and replied that he would accept an offer of 7,000 Irish punts. When the offer was made, it was for just 1,000 punts. The solicitor advised Neville to reject it and he did so.
A month later, the house burned down.
But Neville did not find out about the arson attack on the house until the following year. He was surprised to receive a letter from Donegal County Council in April 1994.
"I received a letter saying my house was in a dangerous condition, that storm damage had taken its toll and what was I going to do about it?" he said.
"This sort of struck me as quite strange, because the house had three-foot-thick walls and it was well-built, it was well-maintained. So I said we'd better go back."
He and his family returned to Tory in July 1994. With its location at the pier, the house should have been visible from the ferry as they approached.
"I scanned and scanned but I couldn't see the house. What I did notice was behind where my house was, was another big building which I discovered was a hotel. So my house had disappeared."
Where Neville's house had stood, was now the hotel's car park, fenced off with large boulders. A septic tank for the hotel was also being installed on the land. But there was no sign of Neville's house.
The shock, coupled with the difficulty of trying to find out what had happened, had terrible consequences for Neville. On his return to New Zealand, no longer able to work as a film maker, he suffered a mental breakdown.
His tale seemed so incredible - that he had once been a renowned filmmaker, whose house had disappeared - the doctor in the psychiatric hospital noted it as evidence that Neville was delusional.
Neville returned to County Down and continued to visit Tory Island.
On one visit, during the crossing to the island, he began talking to another man standing on the prow of the ferry. That man was Anton McCabe, a Tyrone journalist who had been a regular visitor to Tory at the turn of the 21st century.
"When I was out on Tory, people on the island told me about the story," said Anton.
"But I thought it was just one of those things that you hear, how could you ever doing anything about it? And then, by pure chance, I bumped into Neville going over to Tory on the boat."
That was on Easter Saturday in 2004. Anton put Neville in touch with a sympathetic solicitor and it took five years for the case against developer and hotelier Patrick Doohan to be resolved in the High Court in Letterkenny. In 2009 Neville was awarded 46,000 euros.
"At least he got a justification," said Anton.
"He got proof that he wasn't somebody that was rambling or delusional. The islanders were very annoyed about what was done to a visitor to their island, to somebody that was a friend to their island."
Over the years since he discovered the house had vanished, Neville suffered poor mental and physical health. His career ended and his marriage broke up.
He returned to live with his elderly parents and still struggles with day-to-day life. But his feelings for the island and its people whom he loved have not changed.
"The island is lovely. What happened on the island with the house is very sad and it has caused lots of problems for me," he said.
"But at the end of the day, you just have to forgive everybody, because you can't hang on to everything."