Thalidomide grant extended in Northern Ireland by Poots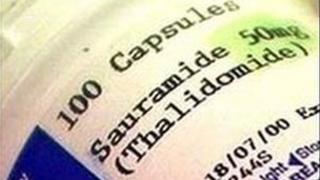 Health Minister Edwin Poots has said he will extend the current health grant for thalidomide survivors in Northern Ireland for a further 10 years.
The minister's decision is in line with similar action in the rest of the UK.
The drug was used by expectant mothers to combat morning sickness between 1958 and 1961, but it led to many babies being born with physical disabilities.
Mr Poots said extending the grant would provide some security to thalidomide survivors in Northern Ireland.
He added it would "allow them to plan more effectively for their futures".
"I have met with a number of thalidomide survivors and have been impressed with the dignified way in which they have pressed their case for a continuation of the current health grant," the minister said.