Sean Quinn Sr getting home for Christmas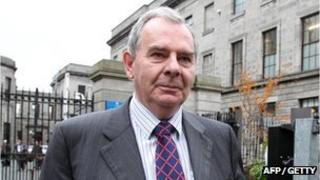 The former billionaire Sean Quinn is to be released from prison for Christmas.
The 66-year-old is serving nine weeks in Mountjoy Prison in Dublin for contempt of court.
But he will be allowed home for three days to be with his family in Ballyconnell, County Cavan.
The decision was made following discussions between the attorney general, the prison service and the justice minister.
Mr Quinn's family, along with his solicitors and parish priest, had written to the prison governor to ask that he be released for a week from Saturday until December 27, not just for Christmas but also to attend the christening of his grand-daughter.
The christening has already been postponed once after Sean Quinn Jr was jailed for three months.
Overjoyed
The family's home parish priest, Fr Gerry Comiskey, said he was visiting Sean Quinn senior in prison on Thursday when the prison governor came to tell Mr Quinn that he would be allowed home for Christmas.
Fr Comiskey said Mr Quinn was overjoyed and delighted, as he had braced himself for the possibility that he might not get out.
Fr Comiskey said Mr Quinn was coping quite well despite the solitude and the prison routine.
He said the businessman was amazed at the level of support he had received.
Mr Quinn told him he received had 158 letters and Christmas cards. Overall, he has received thousands of letters, and he and his children were replying to every one which has an address.
Taken over
Sean Quinn and his family have been embroiled in a high-profile legal battle with the IBRC.
Anglo Irish bank was nationalised in 2009 and its affairs were taken over by the IBRC.
The IBRC claims the Quinn family owes it more than 2bn euros and is trying to recover the money from their assets.
Lawyers for the IBRC alleged that members of the Quinn family had tried to strip assets from their firms, putting property worth millions of pounds beyond the reach of the bank, in defiance of a court order.
In July, Dublin High Court ruled that Sean Quinn, his son Sean Quinn Jr and his nephew, Peter Darragh Quinn, were in contempt of that court order.
Sean Quinn Sr is now serving a nine-week prison sentence.
His son spent three months in jail.
Peter Darragh Quinn did not show up for sentencing in July and a warrant for his arrest was issued.
However, he has remained in Northern Ireland, outside the court's jurisdiction.