Northern Ireland's airports prepare for busy Christmas weekend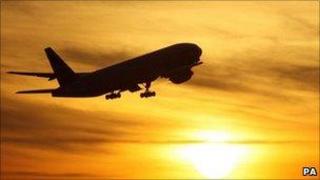 Northern Ireland's three airports are preparing for one of their busiest weekends of the year.
Belfast International Airport said it was expecting about 45,000 passengers over the weekend, with Friday and Sunday being particularly busy.
George Best Belfast City Airport said about 9,000 passengers would pass through its doors on Friday.
City of Derry Airport said it was expecting about 10,000 people between Friday and 2 January.
Deborah Harris from the International Airport said most of its passengers were returning home for Christmas to spend the festive period with family and friends.
"But we do still have some passengers jetting off to sunnier climes - the Canary Islands are always popular at this time of year," she said.
"Popular destinations include London, Glasgow, Edinburgh, Manchester, Birmingham but also flights from Paris, Amsterdam, Barcelona and Krakow."
She said the New York service is also particularly busy in the run-up to Christmas with loved ones jetting in from right across the US to come home for Christmas.
"After the Christmas rush, the ski season starts in earnest on Boxing Day (26 December) so we have flights to Salzburg, Innsbruck, Geneva, Verona, Andorra, and other destinations," she said.
"Anyone travelling over Christmas should remember not to put any wrapped Christmas presents in their hand luggage as they may to be opened during the security screening process."
Judith Davis, Landside Operations Manager at George Best Belfast City Airport, said: "Christmas is definitely a busy time of year at the airport.
"Most of the passengers will be arriving into Belfast to be reunited with friends and family for Christmas.
"As Northern Ireland's sole link with London Heathrow, we're expecting a high volume of passengers who have travelled from much further afield, through the London hub, to be back in time for Christmas.
"We have lots of extra staff on board over the next couple of days to make sure everyone's journey home is as smooth as possible."
There will also be plenty of activity at City of Derry Airport, with the busiest day predicted to be 30 December.
Damien Tierney from the airport said: "Our predicted figures this Christmas are encouraging, in the current economic climate and we are achieving the same figures as 2011.
"In the run up to the festive period, the airport is advising all passengers to check security restrictions before arriving at the airport."