Northern Ireland's five main party leaders discuss flag protests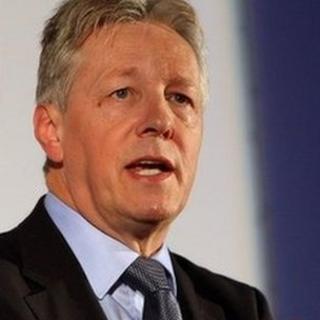 The leaders of Northern Ireland's five main parties have reaffirmed their commitment to the rule of law after talks on the flags crisis.
In a joint statement they deplored the violence of the past two weeks.
They also reaffirmed their commitment to the "primacy of the political process".
It was the first meeting of the party leaders since the dispute over the flying of the union flag at Belfast City Hall began.
The statement also recognised the importance of culture and identity and emphasised that their task was to find political solutions and to ensure peace and stability.
The joint statement concluded by saying the meeting would reconvene in the new year.
There was no specific reference to flags.
Vote
The meeting at Stormont Castle, which began at 0930 GMT and lasted almost eight hours, was supposed to take place last week but was cancelled after some parties refused to attend.
Protests began on 3 December after Belfast City Council voted to fly the flag only on designated days at the city hall.
Violence has flared following some of the the protests. A number of politicians have received death threats - the homes and offices of several Alliance party members have also been targeted.
Prior to the party leaders' meeting, First Minister Peter Robinson said it must result in action.
"It can only be useful, in the present context, if action is taken which addresses the flags issue," he said.
On Tuesday, Mr Robinson and Ulster Unionist Party leader Mike Nesbitt said they were inviting other unionist politicians and groups to join a forum to address the flags issue.